Interventional Treatment in Varicose Veins
Non-invasive treatment methods can be divided into two main groups: thermal and non-thermal. Thermal methods are radiofrequency and laser ablation, while non-thermal methods are classical foam (sclerotherapy) and new generation bioadhesive (glue) methods.
How are Endovenous Laser (EVLA) and Radiofrequency (RF) Ablation Procedures Performed?
Both applications are performed in the operating room. Sedation + local anesthesia or spinal anesthesia is preferred. In the EVLA and RF ablation methods, a laser or RF fiber is inserted into the great saphenous vein from the ankle or knee under ultrasound guidance. After the position of this fiber is confirmed by ultrasound, local anesthesia is administered throughout the vessel. The laser or RF fiber is withdrawn and the entire vessel is occluded using laser or RF energy. The occluded vessel is gradually shrunk and destroyed by the body.
Endovenous Treatment of Varicose Veins
What are the Characteristics of Non-thermal Methods?
In the non-thermal methods, as in the thermal methods, a catheter is inserted under ultrasound control from the ankle or knee into the main vein to be treated and the position of the catheter is confirmed by ultrasound. In contrast to the thermal methods, it is not necessary to anesthetize the vein in the non-thermal methods. In the classical foam method, which we call sclerotherapy, a foam sclerosing agent is injected into the vein. In adhesive methods, new generation bio-adhesives are injected into the vein, which glue and seal the vein walls.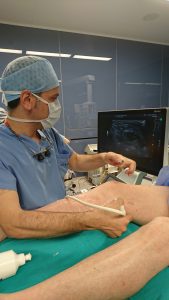 What are the Advantages of Endovenous Techniques over Classical Surgery?
• The patient has no incisions and scars, only a needle puncture.
• The process after the procedure is less painful than with the classical method.
• Patients can walk the same day.
• Patients return to their normal lives in less time.
• Since non-thermal methods do not use heat, recovery is much faster and discomfort after the procedure is much less compared to thermal methods.
What is the Hospital Process and Recovery Process for Endovenous Techniques?
The patient comes to the hospital in the morning of the procedure and is discharged 3-5 hours after. The procedure takes 20-30 minutes for each leg under standard conditions and is performed with either superficial general anesthesia (sedation) or local anesthesia. Patients walk immediately after the procedure.
Depending on the thermal effect of the thermal methods, there may be a slight burning and tingling sensation along the procedure area for 1-2 days.
With non-thermal methods, there is almost no discomfort after the procedure.
Both methods should be followed by medical treatment with compression stocks of appropriate pressure and size for 1 month to accelerate the healing process.
Endovenous Treatment of Varicose Veins
Tags: endovenous treatment of varicose veins, treatment of varicose veins with laser, treatment of varicose veins with radiofrequency, treatment of varicose veins with adhesives, treatment of varicose veins with foam, sclerotherapy, foam treatment, local anesthesia, endovenous treatment, endovenous ablation, ultrasound, doppler